On the eve of Prime Minister Turnbull's visit to New York, the Lowy Institute presents a series of snapshots examining some of the more memorable meetings between Australian prime ministers and US presidents over the years.
In some respects, Prime Minister Turnbull is at a disadvantage when compared to his predecessors. President Trump is a unique figure and past encounters between Australian prime ministers and US presidents provide less than the usual guidance about how best to approach the meeting. Nevertheless, there are some lessons to be learned and
three stand out in particular.
First, that the bumpy start to the relationship between Turnbull and Trump is nothing new.
Australian prime ministers have often had to brace for a chilled reception in Washington. Menzies, Gorton, McMahon, and Whitlam all arrived at the White House having either set out policy positions clearly at odds with the United States, or having had open disagreements with US presidents. Since the signing of the ANZUS treaty in 1951, very few Australian leaders have arrived in America without policy differences to address.
---
Second, some Australian prime ministers have agonised over their ability to strike a strong personal relationship with the US president.
The intimacy of the bond between Harold Holt and Lyndon Johnson proved elusive for John Gorton, and Gough Whitlam openly sought to depersonalise the alliance during his own controversial visit to Washington in 1973. While a personal bond can be extremely useful, especially given the premium that the current US president seems to place on it, the lack of such a connection has never been fatal to the broader relationship overall, even if it means working harder in other parts of the alliance.
---
The third and final lesson is that there is nothing new in leaders of the United States and Australia adopting contrasting positions and policies on how to approach challenges in Asia.
Menzies and Kennedy, for instance, had to grapple with conflicting approaches to the challenge of Sukarno's aggression towards West New Guinea and the new Malaysian Federation. Likewise, American leaders and officials have often been shocked to find that Australia has held a different perspective on Asian affairs. None of this, however, need imperil the development of a close and effective working relationship.
---
Like John Gorton, Turnbull will conduct his first meeting with an American president afloat: in this case on the USS Intrepid, an old Essex-class aircraft carrier built during the Second World War and now moored in New York Harbour. The optics are obvious, but also risky. The bilateral discussions will take place in the shadow of the 75th anniversary of the Battle of the Coral Sea, when these two allies combined to turn the tide of the Pacific War and halt the advance of Japanese imperialism. It is inevitable, therefore, that the Australia–US defence relationship, past and present, will be to the fore. No other venue in the United States could better capture the way in which the memory of the relationship is so deeply rooted in the experience of war and conflict. But a very real risk is that the meeting — which is, after all, taking place aboard a museum — will be literally awash with cosy sentimentality, putting on display an alliance that appears to be cruising in its own sea of complacency and nostalgia.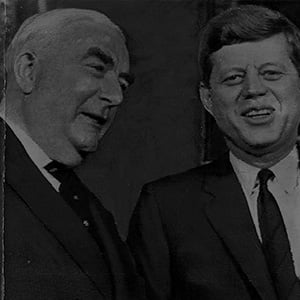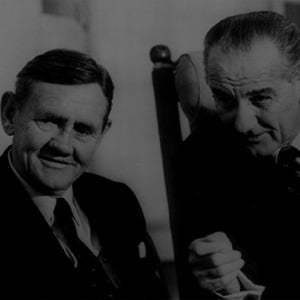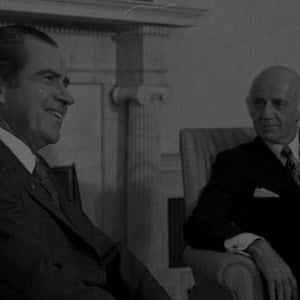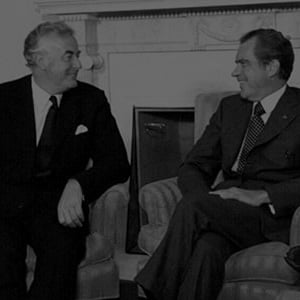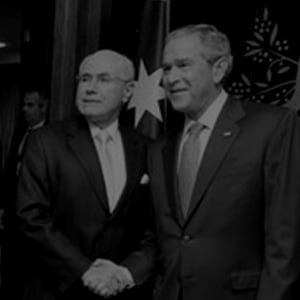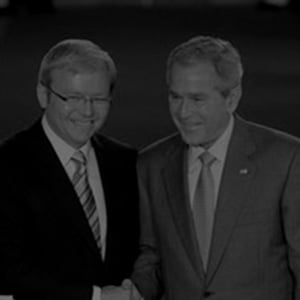 Image: John F Kennedy Presidential Library and Museum
Robert Menzies
and
John F. Kennedy
February 1961
When Prime Minister Robert Menzies arrived in Washington in February 1961 to meet the newly inaugurated US President John F. Kennedy, it is likely he would have much preferred to enter an Oval Office occupied by Richard Nixon, Kennedy's opponent at the presidential election the previous November. Menzies and Nixon had first met when the latter visited Australia as Vice President in 1953, and over the next seven years through correspondence and meetings the two had developed a cordial relationship.
Menzies was later to openly confess that "it would have been difficult for any American President to start, before I knew him, further back in my estimation than John Fitzgerald Kennedy". Menzies recalled that Kennedy's father, Joseph P. Kennedy, had been tainted with the charge of appeasement when he served as American Ambassador to Great Britain in the late 1930s. Reflecting on his first meeting with JFK, Menzies added, "any prejudice I had was not in his favour".[1]
Menzies had also long been a sceptic of American global leadership; indeed, of Americans in general. The conclusion recorded in his diary at the end of his very first visit to the United States in 1935 was that the Americans were not "our blood cousins", and that "overshadowing all is that I dislike the American accent and baloney".[2] He told Nixon in the early 1950s that the United States had assumed unprecedented global power too early and opined to his first Minister for External Affairs, Percy Spender, that the ANZUS treaty would be "a superstructure on a foundation of jelly".[3] Throughout his first decade in power, Menzies had also shown a capacity to challenge US policy, urging a more restrained American response to the crises across the Taiwan Strait, maintaining a profitable trading relationship with Beijing in non-strategic goods, and backing Britain, not the United States, in the Suez crisis of 1956.
Menzies' call on Kennedy in February 1961 was an informal visit: the Australian leader was en route to a Commonwealth Prime Ministers conference in London that was to take place the following month. The new president hosted Menzies at a private working lunch with Secretary of State Dean Rusk, Assistant Secretary of State for East Asian and Pacific Affairs JG Parsons, and Australian Ambassador Howard Beale. One US official recalled the lunch as a "memorable occasion" that had been:
…completely informal, completely relaxed … Two of the greatest spellbinders that I had ever encountered were the principals. Menzies is just a fascinating figure and a man of immense stature — he would have been in any country, let alone Australia — and a very colourful and persuasive talker and relater of anecdotes. And, of course, the President … a man of great humour, great presence, great wit.[4]
The two leaders also discussed the legacy of the Second World War, most particularly Kennedy's military service in the Pacific.
But there was also business to discuss. Although US officials told Kennedy that there were "no important problems in … bilateral relations with Australia", describing Menzies as a "strong friend of the US, and a fervent Anglophile", the two leaders did focus on the festering problem of Indonesian president Sukarno's claims on the Dutch-held territory of West New Guinea. For Sukarno it would be the final step in the completion of the Indonesian state.
Australia favoured either the Dutch retaining control or that the West Papuans be given an exercise of self-determination. Washington recognised that Sukarno's hold on government was a fine balancing act and feared that if he did not get his way over West New Guinea, then the Indonesian Communist Party may seize leadership of the national cause and possibly overthrow him. As one of Kennedy's advisers concluded at the time "it was worth sacrificing a few thousand miles of cannibal land" to satisfy the Indonesian nationalist cause.[5] Australia's regional security fears were thus sacrificed on the altar of American Cold War globalism.
Images from Menzies' visit to Washington. Source: John F Kennedy Presidential Library and Museum
On China, Menzies reaffirmed Australia's support for non-recognition of the Communist regime: "right or wrong", he told Kennedy, "Australia would support the United States' position, as it did not wish to see the United States defeated or isolated on this".[6] But however supportive he might have been on China, Menzies was sceptical of being drawn into any grand US designs for how the Asia-Pacific might be organised.
During their discussions, Kennedy tried to get Menzies' support for the creation of a 'New Pacific Community', what he described as "some kind of non-military institutional framework" comprising Australia and other non-Communist Asian states. It would "supplement" rather than "duplicate" the ambit of the United Nations and other international organisations. As historian Timothy Maga has argued, the idea was for this new body to be headquartered in Australia: the White House's way of trying to encourage Australia into a more "active, interventionist foreign policy based on American goals in the Cold War". But Menzies would not sign up to this part of Kennedy's new frontier, fearing that the idea was attempting to manoeuver Australia into a 'spokesman' role for American policy in Asia and the Pacific. The Australian reluctance to take up the mantle envisaged for it by the president was not received well in Washington. As Maga concluded:
Kennedy's … discovery that Australia could say 'no' and still remain a friend to American policy must have been an amazing, hard-in-coming revelation for him.[7]